Red Lion
Address:
Dragon St, Petersfield
Nearby restaurants:
Spice Lounge, Paradise Balti, Malabon
This is a JD Wetherspoon's pub with all the benefits of that chain: low beer prices, cheap food, and the chance to sit and talk without suffering from blaring music.  Whether it has too much purchasing power and threatens other local pubs is an interesting and controversial topic for conversation, but that's outside the aims of this web site. 
Phone:
01730 235160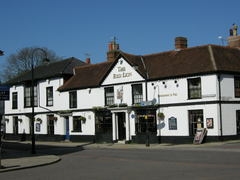 Comment
Very convenient for Malabon.  We ate there once, shortly before it opened formally, and frankly if you want an Indian meal, there are three good Indian restaurants near enough.  Doesn't mean it's a bad pub though. 
Web site